Bonuscard Program
Get your Bonuscard now and enjoy the many advantages:
Earn points with every purchase of wine from Cantina Kaltern, Erste+Neue and Baron Di Pauli. Exchange them for vouchers and get up to 10% discount on your purchases in our shops or our online shop.
Always fully informed with our newsletter
€ 10 welcome bonus on your first purchase in our online shop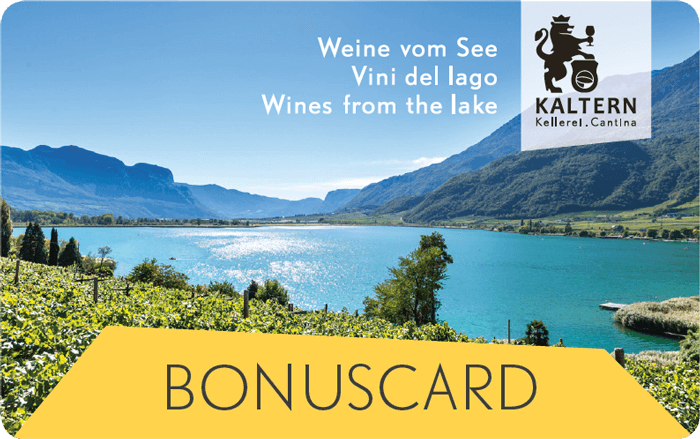 Terms and conditions: Applicants must be of legal age. The Bonuscard is issued with unlimited validity but the issuer reserves the right to change the bonus allocation procedure. Bonus function: The cardholder receives one point for every euro spent on wines purchased from the Kaltern, Erste + Neue and Baron Di Pauli wineries (excluding one-liter bottles) in our shops in Kaltern and at our online shop at www.kellereikaltern.com/shop. The points can be converted into a discount on one of your next purchases (online or in our shops): If you redeem up to 200 points, you will receive a € 1.- discount for every 20 points. If you redeem more than 200 points, the discount will be € 1.- for every 10 points. The points you collect remain valid for 2 years.
PRIVACY POLICY
Information provided by Cantina Kaltern in accordance with Art. 13 of the European General Data Protection Regulation (GDPR) 2016/679.
This privacy statement explains how and for what purpose Cantina Kaltern collects and uses the personal data that you provide when you apply for the BONUSCARD.
Controller of personal data: The controller is Cantina Kaltern with its registered office at Kellereistrasse 12, 39012 Kaltern (BZ), Italy. The controller can be contacted by email at info@kellereikaltern.com.
Source of personal data: The data collected by Cantina Kaltern is the data provided by you by filling in the BONUSCARD form (first name, surname, e-mail address, country and age of majority), as well as your purchase data (e.g. item type and quantity, price, time and date of purchase). Insofar as voluntarily provided for queries, this information also includes your telephone number.
Type of data processing and security measures: Your data is stored using our in-house processing software and in hard copy. Your personal data is processed electronically or in hard copy for the above-mentioned purposes. All organizational and technical security measures are taken to ensure that the security and confidentiality of the data are guaranteed. The processing is performed by our employees.
Purpose and legal basis of the processing:
The data is used, analysed and evaluated for the following purposes:
To calculate your bonus points and to process purchases in the shop as well as in the online shop.
For statistical purposes and to improve and optimise the Bonus Card programme.
With your express and written consent to carry out direct marketing activities.
The data will not be forwarded or sold to third parties.
Retention period: Your data is stored for the duration of the entire contractual relationship and for an additional period of one year in accordance with our legal retention and documentation obligations and is deleted on expiry of the limitation periods at the earliest.
Rights of the data subject:
We draw your attention to the fact that you as the data subject have specific rights in accordance with the General Data Protection Regulation: right to information, right to rectification, right to erasure, right to restriction in the event of unlawful processing, right to data portability, right to object to processing, right to complaint. For the details, go to www.kellereikaltern.com/privacy. To exercise your rights, you can contact the data controller directly: Cantina Kaltern with its registered office at Kellereistrasse 12, 39012 Kaltern (BZ), Italy; mail to info@kellereikaltern.com.